28.02.2016. The new option Stay Voice Notebook on Top of Windows has been added now to the extension options dialog. If this checkbox is checked, then the Voice notebook window will be started on top of other windows.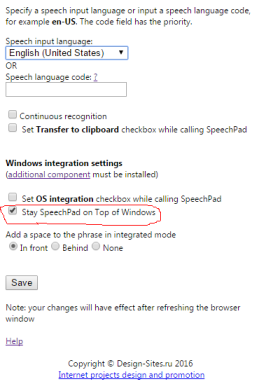 Users must install the VoiceNotebook extension and integration module to provide this functionality, but no need paid OS integration in their accounts.
Running VoiceNotebook on top of the other windows is useful for text input in the office applications. This trick can be accomplished in Windows OS (before the new option has been worked out) with the help of special programs: DeskPins, Windows Topmost control (works in latest Windows).
In Linux, you can fix windows on top with the help of internal system tools (right click on the window title and select "On Top" item in the shortcut menu).
Use of Chrome Shortcuts for the VoiceNotebook URLs with parameters makes the VoiceNotebook window independed of other Chrome windows, and the VoiceNotebook window serves as a small "start/stop" panel in the integration mode. The picture below illustrates this capability.