A new pseudo-command to make uppercase letters has been added to the voice notebook. Unlike other voice commands, set in the https://voicenotebook.com/commands.php module, this command is set in the https://voicenotebook.com/words.php module. It has the code #1#. To use the command, set the Replaced words for it. For example, I set the words: big letter as the replaced words in the picture below.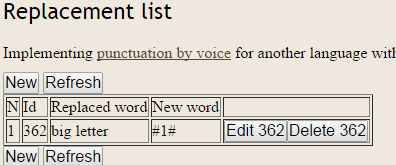 Now, whenever I say big letter a during recording, the next transcribed letter a will be uppercase. Neither the words big letter, nor the command string #1# will appear in the result area, only A.
I think this-pseudo command is not very important for English, because Google makes single letters and abbreviations uppercase by default, and treats proper names correctly in English. However, can be very useful for other languages, such as Russian.